Inu x Boku SS, Vol. 1 (Inu x Boku SS #1)
by Cocoa Fujiwara (Creator)
The elite and beautiful Ririchiyo Shirakiin has a bad habit–she can't help but lash out at people with her vicious tongue, all while hiding behind a mask of haughty cool. This attitude has a lot to do with people minding her business because of the Shirakiin family name, but it troubles Ririchiyo to no end. In search of independence and solitude, she moves to the Maison de Ayakashi, an apartment building full of wealthy tenants and with its own Secret Service. Ririchiyo is eager to be alone, but upon her arrival, she is greeted by Soushi, an SS agent arranged for her by her parents. Ririchiyo tries to turn Soushi away, but Soushi's dogged devotion to his new mistress will not be deterred. The threat against the residents of the Maison de Ayakashi are not to be taken lightly, after all. And despite his puppy-like demeanor, Soushi is not to be trifled with either… Summary from Goodreads.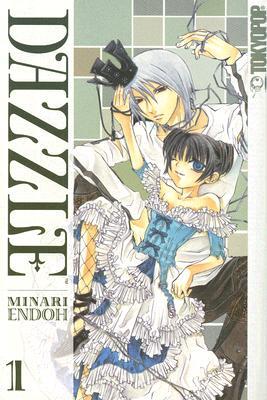 Dazzle, Volume 1 (Dazzle #1)
by Minari Endou
A young girl named Rahzel is abruptly sent off to see the world by her father. She is alone on her travels–until she meets Alzeid, a mysterious loner on a mission of revenge. At first the two don't get along…but little by little, Alzeid opens his heart to Rahzel. It's a good thing, too–because with the dangerous (and at times romantic) road ahead, they will need to rely on each other to survive! Summary from Goodreads.