Bokurano: Ours, Vol. 1 (Bokurano: Ours / ぼくらの #1) by Mohiro Kitoh, Moiro Kitoh
Saving the world is hard. Saving yourself is even harder. One summer, 15 kids innocently wander into a nearby seaside cave. There they meet a strange man who invites them to play an exciting new video game. Sounds like fun, right? This game, he explains, pits a lone giant robot against a horde of alien invaders. All they have to do is sign a simple little contract. The game stops being fun when the kids find out the true purpose of their deadly pact. Summary from Goodreads.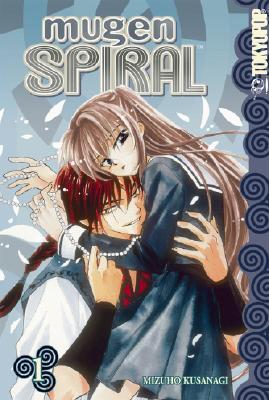 Mugen Spiral, Vol. 01 (Mugen Spiral #1)
by Mizuho Kusanagi, 草凪 みずほ
Yayoi, a spunky high school girl, has inherited spiritual powers from her mother, and she uses these powers to protect people. During a fight with the devil Ura, Yayoi's power turns the devil into a black kitten. Now, even though Ura doesn't hide his desire to "eat" Yayoi's power when he gets the chance, they develop an interesting relationship: the two begin living together, and Yayoi takes her new feline "friend" on her adventures. Summary from Goodreads.
Game X Rush, Volume 1 (Game X Rush #1)
by Mizuho Kusanagi, 草凪 みずほ
Japan's greatest bodyguard faces off against its greatest assassin in a lethal game of corruption and lies!
Memori is the pretty-boy mascot for his brother's bodyguard agency, solving cases and saving damsels in distress. When he runs into the skilled and witty Yuuki, he thinks he's found the perfect partner… Until he learns that Yuuki is a trained assassin who seems to know his every secret! Summary from Goodreads.