Koutetsujou no Kabaneri
As the world is in the middle of an industrial revolution, a monster appears that cannot be defeated unless its heart, which is protected by a layer of iron, is pierced. By infecting humans with its bite, the monster can create aggressive and undead creatures known as Kabane. On the island Hinomoto, located in the far east, people have built stations to shelter themselves from these creatures. People access the station, as well as transport wares between them, with the help of a locomotive running on steam, called Hayajiro. Ikoma, a boy who lives in the Aragane station and helps to build Hayajiro, creates his own weapon called Tsuranukizutsu in order to defeat the creatures. One day, as he waits for an opportunity to use his weapon, he meets a girl named Mumei, who is excused from the mandatory Kabane inspection. During the night, Ikoma meets Mumei again as he sees Hayajiro going out of control. The staff on the locomotive has turned into the creatures. The station, now under attack by Kabane, is the opportunity Ikoma has been looking for. Summary from My anime list.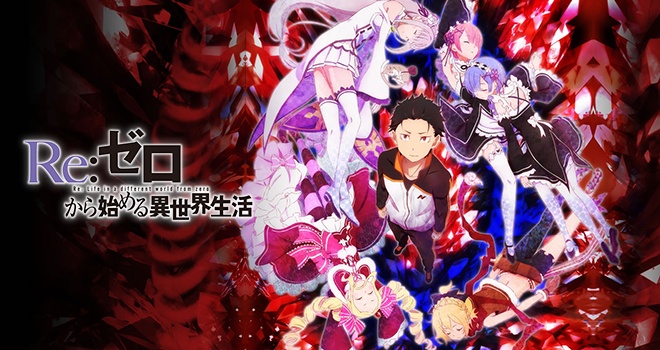 Re:Zero kara Hajimeru Isekai Seikatsu
Suddenly, high school student Subaru Natsuki has been summoned to another world on the way back from the convenience store. With the biggest crisis of his life being summoned to another world, and with no sign of the one who summoned him, things become even worse when he is attacked. But when he is saved by a mysterious, silver-haired girl with a fairy cat, Subaru attempts to return the favor by helping her track down something that was stolen from her. When they finally manage to get a clue, Subaru and the girl are attacked and killed by someone. Subaru then awakens in the place he was summoned and notices he gained the ability "Returns by Death" and has become a helpless boy that only has the ability to rewind time to a certain point by dying. Beyond the despair, can he save the girl from the fate of death? Summary from My anime list.
Bungou Stray Dogs
Nakajima Atsushi was kicked out of his orphanage, and now he has no place to go and no food. While he is standing by a river, on the brink of starvation, he rescues a man whimsically attempting suicide. That man is Dazai Osamu, and he and his partner Kunikida are members of a very special detective agency. They have supernatural powers and deal with cases that are too dangerous for the police or the military. They're tracking down a tiger that has appeared in the area recently, around the time Atsushi came to the area. The tiger seems to have a connection to Atsushi, and by the time the case is solved, it is clear that Atsushi's future will involve much more of Dazai and the rest of the detectives! Summary from My anime list.
Sakamoto desu ga? (Haven't you heard? I'm Sakamoto)
First year high school student Sakamoto isn't just cool, he's the coolest! Almost immediately after starting school, he began attracting everyone's attention. The girls love him, and most of the boys resent him. There's even a boy in the class who works as a model, but who is constantly upstaged by Sakamoto! No matter what tricks the other boys try to play on him, Sakamoto always manages to foil them with ease and grace. Though Sakamoto may seem cool and aloof, he helps others when asked, such as in the case of the boy in his class who was being constantly bullied. No matter what difficulties Sakamoto encounters, he moves through his high school life with confidence and class. Summary from My anime list.
Mayoiga
A shady bus tour of young men and women is headed to an elusive village called Nanakimura. A destination where people can partake in a utopian existence, free of the world's obstacles… or so goes the rumor. Heading deep into the mountains, the bus is carrying 30 different individuals, each harboring their own expectations and troubled hearts… What they had arrived to was an uninhabited village with faint, lingering scents of life as it was falling apart. Just what is the secret of Nanakimura? Summary from My anime list.