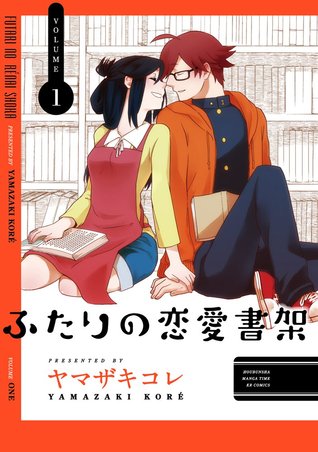 ふたりの恋愛書架 1 (Futari no Renai Shoka #1)
by Kore Yamazaki
Kanako is a young woman who is running an old book store. One day, a customer comes in who shares her taste in books. He's a teenager named Akio, and he and Kanako quickly find that their taste in books is only the first of many ways that they fit together well. Kanako immediately realizes she wants him, and soon blurts out awkward things, like proposals of marriage and cohabitation. Despite their different ages and their awkwardness, it seems like their relationship has the potential to grow into something beautiful.Summary from Goodreads.
オレンジチョコレート 1 [Orange Chocolate 1] (Orange Chocolate #1)
by Yamada Nanpei
A romantic comedy with a distinctly Japanese flavor. Next-door neighbors Chiro and Ritsu have been best friends since childhood. Ritsu, the eldest son of a family of traditional nichibu dancers, is thrust into the public eye as his career takes off, and his growing fame begins to test the pair's friendship. And now the twist: when a wish made at a shrine actually comes true, Chiro and Ritsu find themselves inhabiting each others' bodies. A further complication arises because Ritsu is not just a dancer, he is a famous onnagata, or female impersonator, popularly known as the "Courtesan Prince. Summary from Goodreads.
野ばらの花嫁 (Nobara no Hanayome / The Bride of the Wild Rose) Vol.1 (Nobara no Hanayome #1)
by Yuu Toyota
Yamada Chizuru was a normal high school student… that is, until her mother left for a "journey" leaving her with a debt of one hundred million yen! As if that wasn't nerve-racking enough; Kuze Mitsuru, the Umegaki gang's Sandaime, saves her by buying her to be his fiancee!? What will become of Chizuru's days? Summary from Goodreads.